I won our Emmy ballot last night! Harry and Ant tied for second place. Here are my past fashion roundups.
Golden Globes
Screen Actors Guild Awards
Grammys
Oscars
BEST
Lena Headey
(
source
)
I have no idea who Lena Headey is, but holy smokes did she look amazing. Her look was my favorite of the evening. She looks like a Gothic princess. I love how there is so much fabric yet the dress doesn't seem heavy or bulky. Simply stunning!
Julianne Moore
(
source
)
Julianne often ends up on worst dressed lists in my opinion, but she knocked it out of the park last night. I am in
love
with her dress. The color, the fit, everything is just perfect!
Leslie Mann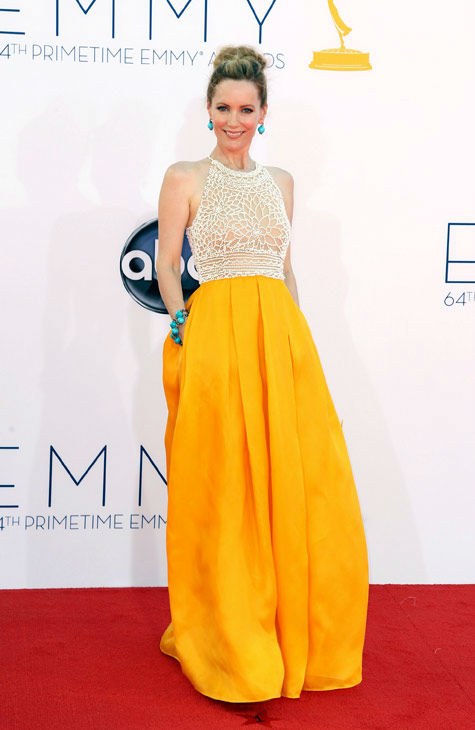 (
source
)
Leslie Mann looked so fun and happy last night! In doing some research for this post I noticed her look has already ended up on a few worst dressed lists, but I must disagree. I love the whole look, including the turquoise jewelry, I think it really stands out against the marigold color of the skirt.
WORST
Jenna Malone
(
source
)
As soon as I saw Jena walk down the red carpet I knew I didn't like her dress, but I couldn't figure out why. It took me a few minutes, but then I realized that her dress would look amazing on someone nine months pregnant. The lack of any sort of defined waistline is really off putting. Not a good look for someone who is clearly not gestating life. Andplusalso, no one should wear shoes with that thick of a strap.
Claire Danes
source
)
Speaking of pregnancy... Claire Danes' maternity frock was one of the most unflattering maternity looks I've ever seen. It looked like a potato sack. Just because you're preggers doesn't mean you can't wear something form fitting. I actually love dresses that hug baby bumps!
Elisabeth Moss
(
source
)
Can can, can you do the can can, Elisabeth? This picture actually makes the dress look somewhat flattering on her, but obviously, the pattern is hideous.
What were your hits and misses from the Emmys last night?