Good morning bloggy friends! I had a nice relaxing afternoon yesterday. Ant took Harry shopping so I had the house to myself for the first time in
quite
a while! Ant went back to JoAnn's and picked up some wooden wall plaques I couldn't stop thinking about since we were there on Saturday. They're don't match our decor so I will be painting them black. I'll be sure to post a picture as soon as they're finished.
Okay, now lets talk about the Grammys! I wasn't planning on watching them, but after the tragic news of Whitney Houston's death I was curious about how they were going to incorporate her in to the broadcast. And as usual, there were some crazy fashions!
Best
Kelly Osbourne
(
source
)
Kelly knocked it out of the park for the second awards show in a row. I really like how the dress was cinched around her waist, it created a fabulous silhouette. My favorite part of her look though was her hair, I just loved the dusty purple hue. It's been a bit too grey for my liking lately, but the added purple was amazing.
Katy Perry
(
source
)
I love pretty much everything Katy Perry wears, and last night was no exception. She was probably my favorite at the Grammys. I
love
how sleeves are so in style right now! I just wish she would have worn her hair in a different way. I liked the color, but I didn't like the style.
Adele
(
source
)
Adele's black sparkly number fit her like a glove, so flattering! I didn't like how washed out her makeup made her look, though. I really loved the dress she wore during her performance, too (see it
here
).
Worst
Kate Beckinsale
Why was Kate Beckinsale even at the Grammys? The droopy bow on her shoulder and droopy saddle bag on her hip evened out the dress in the most atrocious way. Asymmetry can be your friend, Kate!
Fergie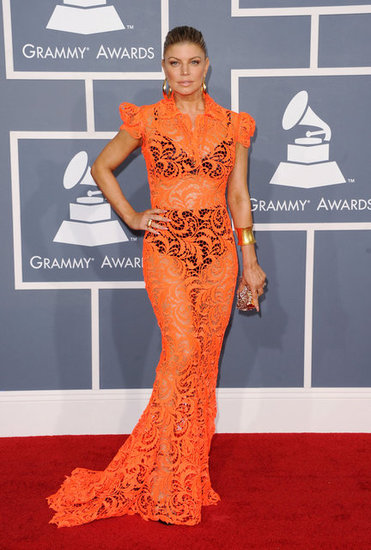 You expect outrageous fashions at the Grammys, and Fergie Ferg was no exception this year. I liked the concept of the dress, but the idea was executed poorly. The collar seemed out of place and I would have put a one piece body suit underneath. Either that or used a low rise brief instead of one that went up above her belly button.