Ant ended up winning our Golden Globes ballot. I was a close second and Harry was a distant third. As I mentioned earlier, the fashions were less than stellar this year. Since I'm such a fashion expert (har har), I thought I'd share my best and worst dressed of the event.
Best
Jessica Alba
(
source
)
I don't like strapless dresses. And I especially don't like strapless dresses with updos. So in theory, I should have hated Jessica Alba's look. But I didn't. I
loved
it. Far and away the best of the night. I loved this light lavender color on her and the detailing on the fabric was just divine.
Octavia Spencer
(
source
)
Another lovely lady in lavender! I was so happy for Octavia when she won, she definitely deserved it for her work on The Help. This dress hugged her curves in all the right places and showed just the right amount of skin. I have high hopes for her look at the upcoming Oscars!
Jessica Biel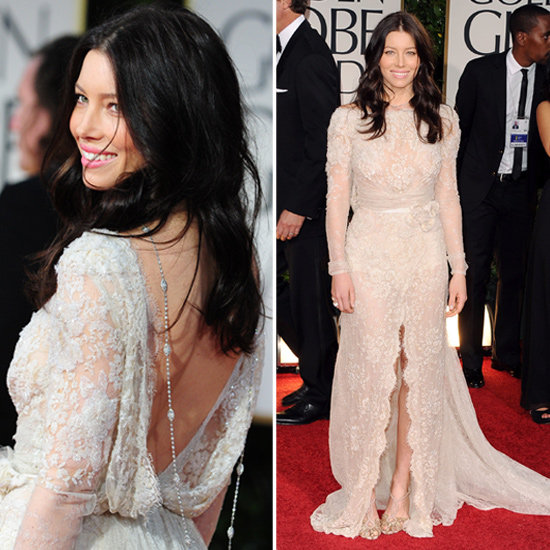 (
source
)
I have a feeling this dress will actually end up on a lot of critic's worst dressed lists, but I loved it! Her look was very shabby chic and romantic looking, although I think most people found it matronly. Regardless of what everyone else says, I dug it and thought the necklace hanging down the back was a really cool detail.
Julie Bowen
How sweet did Julie Bowen look in this dress? The jeweled sleeves really made the dress and I don't think she could have chosen a more perfect hairstyle to compliment the look.
Laura Dern
(
source
)
Laura's dress reminded me of the Emerald City from The Wizard of Oz; her sparkly jewel toned dress screamed "movie star." While I think belts on dresses usually make the look too casual for an awards show, the belt on this dress pulled everything together. What a knockout!
Worst
Zooey Descahnel
(
source
)
I love Zooey, I think she's really cute and quirky. Her look last night, however, was just
too
quirky for me. The bodice of her dress was beaded, but it looked like freaking astroturf! Her hair was pretty terrible, too. What's up with the random pieces cut to her chin?
Sarah Michelle Gellar
(
source
)
Ugggh. Sarah Michelle Gellar looked like she was a bride who just came from a "trash the dress" photo shoot. Not a good thing for a fancy awards show! Her hair was kind of fun, and could have worked if paired with a nice dress with straps or sleeves.
Freida Pinto
(
source
)
This dress was so gross. It reminded me of a bad hotel bedspread. The fabric was too stiff to be used in a full skirt like that. It made Freida look much wider than she actually is. Plus, she wore her hair behind her shoulders. All around a bad look.
There ya have it! I definitely could add more looks to each list, but this post is already pretty long so I'll leave it at that.
Question of the day:
Who was your best and worst dressed at the Golden Globes?