So far, when it has come to baby gear, I've been pretty decisive. I found our nursery furniture online, and knew it was the set for us right away. I did a bit of research on our
travel system
but was able to make the decision on which one I wanted fairly quickly. However, there has been one baby item that I've been agonizing over... the diaper bag!
I've had it narrowed down to two for a while, but I just can't seem to make up my mind. The two contenders are Coach and Petunia Pickle Bottom. In
last week's vlog
I said how I was pretty set on getting a Coach bag. This is the one I loved at the Coach store.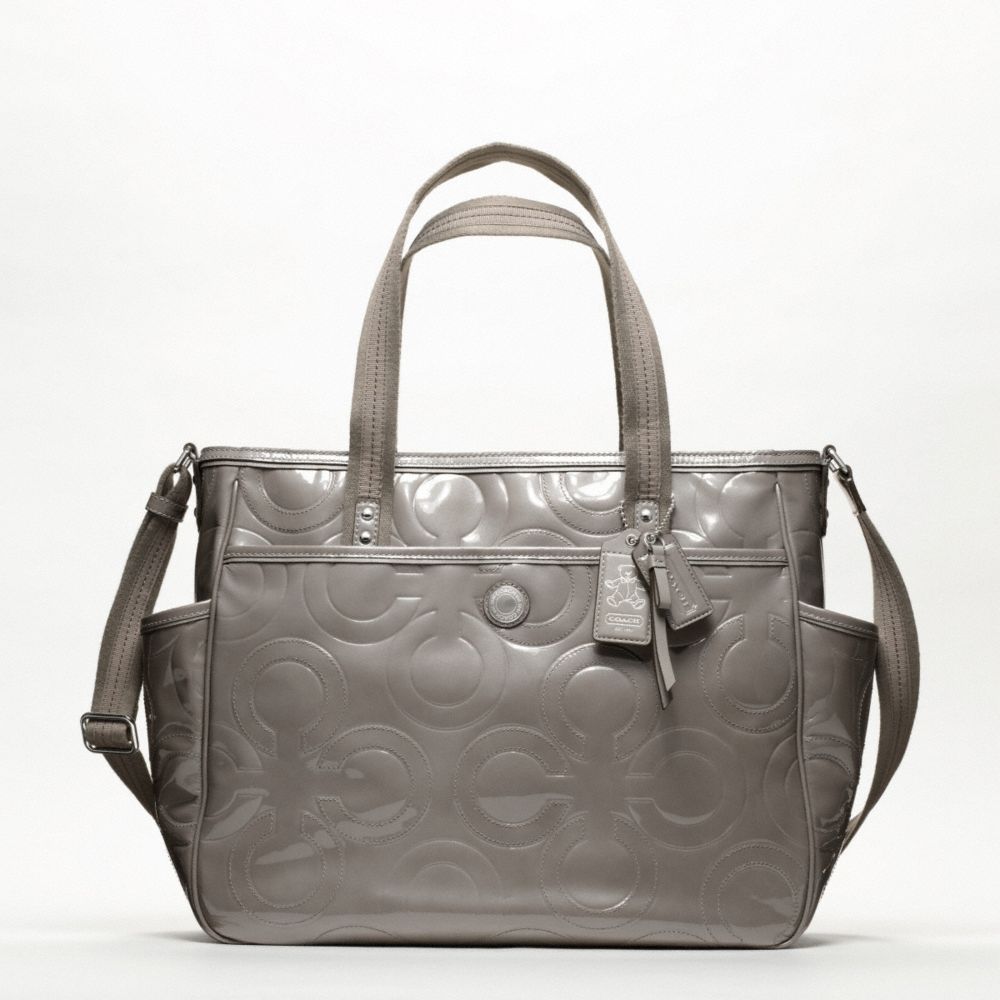 Isn't it just beautiful? I think I would prefer it in black, but the grey is nice, too. Some pluses about this bag? Well, as I just said, it's a gorgeous bag, and everyone knows the quality of Coach's craftsmanship. The bag is versatile and can be worn either on the shoulder or across the body. And there are tons of different pockets inside to stay as organized as possible. The negatives? The price, this particular model costs over $350, which is kind of silly when you think of all the messes and accidents that could potentially end up on or in the bag. And probably the biggest downfall is the sheer size of this bag. It's freaking
huge
! Big bags are great, but even as someone who loves big purses, I have a feeling that this bag could get too heavy with all the crap I could potentially stuff inside. Because it's so big I'm not sure if it would even fit in the basket part of our stroller.
Here is the Petunia Pickle Bottom bag I'm looking at.
This is the Touring Tote in the Evening in Innsbruck pattern. Not having seen this bag in person yet, the positives I've come up with are all just based on internet research. I was actually able to find
this review
on the bag, which does a good job describing this particular model. So, from what I've seen, this option is a good one! Compared to the Coach bag, the PPB is cheap... less than $150! I am also loving the three different carrying options, the two shown above, plus it easily attaches to your stroller.
Neat, right? The size of this bag could be a positive or negative, I'll have to see it in person to be sure. It definitely is smaller than the Coach bag, but looks like it still has quite a few different pockets for organization. It doesn't look too small and with just one kid should hold everything we'll need. Another potential negative could be the quality of the bag. Never even hearing of PPB until becoming pregnant, I'm not sure how well the bags are made.
So, I still have a decision to make. At this point I'm thinking that the PPB is the way to go. I'm just loving how the bag can attach right to the stroller! On the other hand, my other option is a freaking Coach bag, who wouldn't want one of those? Uggh, I know I'm over thinking this. I'll let you all know what I end up going with!
I'd love to hear which diaper bag you guys think I should go with!